Dresden: Frauenkirche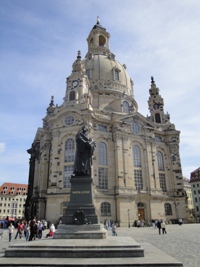 Dresden: Semperoper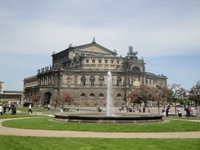 Welcome to the website of Dresden Bus!
Dresden Bus allows you to quickly rent a comfortable bus for a sightseeing bus tour, a bus transfer or a bus excursion in Dresden and the surroundings. If you need any further information about bus rentals with Dresden Bus for a sightseeing bus tour in Dresden, please refer to the page Sightseeing tours. If you are interested in bus transfers by autobuses, buses or minibuses, please click on Bus transfers. In addition, you will find several suggestions of bus excursions from Dresden to surrounding Saxony, to neighbouring Brandenburg as well as to Berlin or to the Czech Republic on our Sightseeing excursions page.
Partner companies of Dresden Bus
Dresden Bus is not an isolated bus rental company, it takes part in the bus rental companies' network of International Bustransfers, a service provided by the tour operator City Tours. All bookings of sightseeing bus tours, bus excursions and bus transfers with Dresden Bus will pass through the central City Tours bus reservations office in Vienna. Your advantage: our professionnal team always stays at your disposal for any question and answers you personally, quickly and thouroughly. This way, you can benefit from the combined know-how of many renowned bus rental companies and sightseeing tour providers throughout Europe. Our advantage: our drivers can entirely focus on their most important task - to safely bring you to your destination!
How to rent a bus in Dresden?
In order to rent a bus for a sightseeing bus tour, a bus transfer or a bus excursion in Dresden or in the surrounding area, please feel free to contact us by e-mail at the following address: or by phoning up our central bus reservations office at the following numbers: +49 351 214 39 066 (landline number in Dresden), +49 172 83 44 164 (German mobile phone number) or at +43 1 966 02 61 (Austrian landline number).
We stay at your disposal in order to answer all your questions about our bus rental terms and conditions and advise you regarding available bus transfers, sightseeing bus tours and bus excursions around Dresden.
Hire coaches in other parts of Germany
charter coaches Baden-Württemberg - bus hire Bavaria - charter bus Berlin - charter coaches Brandenburg - rental coaches Bremen - book coaches Hamburg - coach booking Hesse - rental coaches Mecklenburg-Vorpommern - coach hire Lower Saxony - bus reservation North Rhine-Westphalia - bus company Rhineland-Palatinate - bus hire Saarland - buses with driver Saxony - book buses Saxony-Anhalt - charter buses Schleswig-Holstein - charter bus Thuringia